Customers are the key factors of business existence. They give companies a purpose and direction to what course your business should take. However, to achieve entrepreneurs have to work smart. Gathering vital information about your customers is the first achievement. The details are the catalyst to new ideas and growth to more significant dimensions. Nonetheless, compiling data from thousands of clients is a daunting task. This where CRM comes in as rescue 911 for business and organization. The software helps gather and organize clients' details in a single file. Avoiding spilling and scattering any information for each aspect plays a significant role in business growth.
CRM works to improve customer relationships by retaining and current and future customers. The feedback and information increase sales profits. It eases the sale team task by providing thee information on a silver platter. They can follow on any clients and make sales advancement without irritating the customer. On the customer's side, CRM helps them feel important for recognition. Here we check on 3 benefits of CRM software for sales professionals.
CRM benefits for the sale team
In a simple chart, statistics show business using CRM have higher growth rates compare to non-CRM companies. The sales team from companies that don't embrace CRM have loopholes, thus leaking information and clients to other competitors. To achieve the best of CRM, a combination of enterprise bpm software helps streamline the business and collects significant data storing it in one place.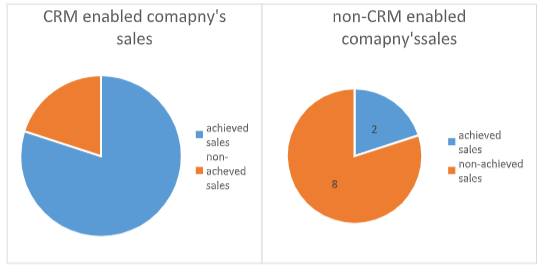 Lead management
The professional sale benefits more CRM, for they can capture all vital information. The details from different segments are pooled together for sale purposes in one platform. The data compiled according to features such as purchase behavior, demographics, taste, and preference of the customer, etc. The CRM gives clear leads in which the marketing department can increase its sales. Each customer is dealt with personally according to the information provided. Leads also help learn potential clients and what they prefer. The sale professional will only market the product that is necessary to the clients. This gives a sense of belonging to the clients and also builds confidence.
Mobile CRM
The sale process is quite a hard task; tracing and contacting all your leads is difficult. However, Mobile CRM has eased the job by having all client data on mobile phones. The sales team will access the data as they move to meet clients. The information contained in the mobile includes prices, customer accounts, and product details. This kind of information helps sales reps to make wise decisions about their leads and what to offer. Time and resources are nor wasted searching for the customer's contacts. The sales team will also have full details of the last conversations. This reduces repetitions and having a productive discussion with positive results.
Pipeline Management
Sale professionals have a different way of conducting their sales. Having a long sale cycle might work for some, but it's a total failure to others. The conclusion being the use of CRM for potential clients, and it's an easy way to track customers. Pipeline management helps keep the contact of clients and maximizes sale opportunities. Here one can segment all the leads information and classify them according to different categories. The sales professionals follow up the lead quickly and can move them to different stages of sales. Using an operative and functional strategy, which gives them a notification of whether the lead has moved to the next level. The sales pipeline management system also helps the sales manager know how much the sale professional has achieved. Through charts and graphs showing the purchase of products and the revenue earn over a specified period.
CRM software is essential to all departments, but it more useful in the sales department. The business should invest more on the CRM soft for more business growth.
3rd Party Software Integration
Lastly and perhaps most importantly, remember that technology is your friend. Forget piecing together information from different notes, spreadsheets, documents and task management systems like its 2010. The ability to integrate your CRM with your preferred tools and software platforms is a huge benefit that can enhance your workflow process, effectiveness and output. A CRM like SalesForce has 100's of interation options that can help you be a more productive sales person.
Integrating your CRM database with a sales enablement software platform like SalesHood can help deliver personalized, bottom of funnel sales content at the perfect time in the process to help convert high potential leads into customers, close more deals, and generate record-breaking revenue.