Running an ecommerce store can be fulfilling — that is, IF you're running a successful one.
If you're running a store that's getting very little, to no sales at all, you'll find the experience to be prrreeeettty frustrating.
I don't want you to be in that position, of course.
That is why, in this guide, I am going to share with you several things about ecommerce that you simply shouldn't ignore as a business owner.
Let's hop right in.
1. Fast and Easy Checkout Process
Trust me, you wouldn't want to inconvenience your customers during the checkout process — it's a mood killer.
Depending on how annoyed you made them feel, they might not proceed with their purchase or visit your site ever again.
This is why you have to make sure that your ecommerce website is capable of facilitating a fast, smooth, and user-friendly checkout process.
In the example below, notice how the checkout button was designed to appear big and clear.
This is to let the customers know that no matter how many items they buy, there's only one thing left for them to do — that is to click the checkout button. Easy.

It's also worth pointing out that you shouldn't distract your would-be customers from buying by adding other CTAs like sharing your product, commenting, or rating — you can do all of these later after they're done with their purchase.
This ensures that your would-be customers won't be distracted in sharing your products over buying them.
Remember, you can't make money out of shares — you need purchases.
Security logos should also be displayed to assure customers that their transactions are 100% safe and secure. And a "contact support" link should be easy to find.
These are tiny details you shouldn't miss to increase the sales and traffic on your ECommerce Store.
2. Compelling content
Your content has the power to convince. To convince your audience to take action, that is.
That is why it is so important.
It's also for this reason that you shouldn't simply outsource the task of writing to whoever. You need to look for reliable freelance writers who know exactly what they're doing.
Those who know about pain points, psychological triggers, or the whole copywriting shebang.
The fact is, compelling content goes far beyond write-ups that are free of grammar errors and typos — there is a whole science behind it, if I may say so.
If you aren't into writing and are oblivious about how to write a product copy that can compel your audience to click your "Buy Now" buttons, you can visit freelance marketplaces like Freelancemyway.com.
The platform has a chock full of highly-skilled freelancers who can help you with your product copy, creating graphic or logo designs, or even setting up your ecommerce store.
Remember that you can always employ the help of seasoned professionals to help you increase your productivity and get the job done with a strong level of polish.
3. Guest Checkout Options
Because your customers value their time, you'd want them to feel that you care about their time, too.
Allowing for guest checkout options can help expedite the checkout process so your customers can quickly make purchases as a guest.
Check out Apple's website, and you'll see the "Continue as Guest" option during the checkout process.

According to a study, shoppers are 1.2x more likely to select guest checkout than filling out registration forms just to make a purchase. In short, guest checkout options help you sell more.
4. Short but Detailed Product Descriptions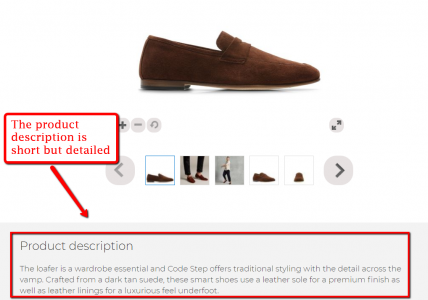 Letting your customers know what they're getting is an essential part of the sales process. It removes doubt in their minds, therefore, making them feel that the transaction isn't risky. This increases their likelihood of pushing through with the purchase.
You can put your sales pitch, your product features, and benefits right in the product descriptions.
Be sure to choose a page layout where the product description is readily visible.
Make a compelling story about your product, its origins, its style, and its power to change lives.
Keep it short but don't forget to include the important details.
5. Support
If you are dead serious about growing a successful ecommerce business, you can't afford to neglect providing exemplary customer support to your buyers.
As a business owner, you wouldn't want to add "dealing with technical issues" on your customer's plate. They have a lot of things to deal with so you need to help them immediately with whatever product, or purchase-related issues they're facing.
An effective strategy of doing this is to add several support options to your store.
Check out the support options that BigCommerce has on their website.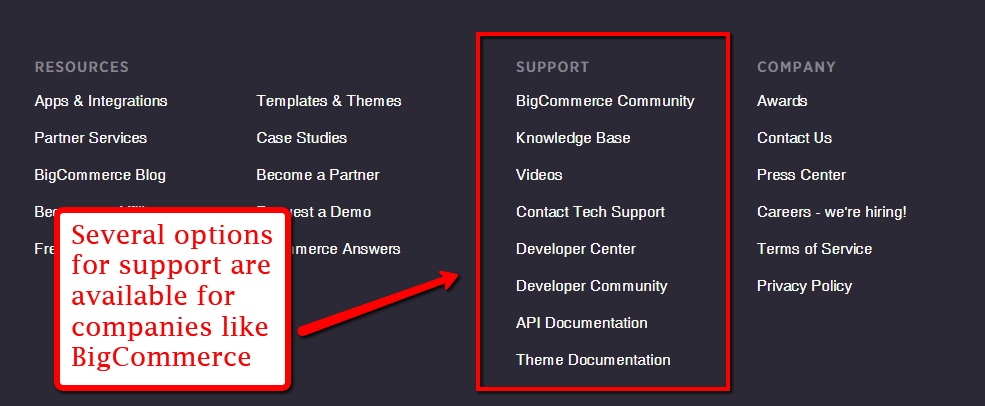 Creating a forum or a platform where your customers can interact with each other is also a great way of improving your customer support.
Instead of answering their queries, your customers just might help each other by answering their questions.
6. Mobile-Friendly
When it comes to having an ecommerce website, perhaps one of the most important things that you need to look into is if your site is mobile friendly.
Especially with over 2.71 billion smartphone users recorded in 2019 and around 52.2% of all website traffic is generated through mobile phones, making sure you can smoothly sell on mobile is a need more than ever.
To check if a web page is mobile-friendly or not, try Google's Mobile-Friendly Tester tool.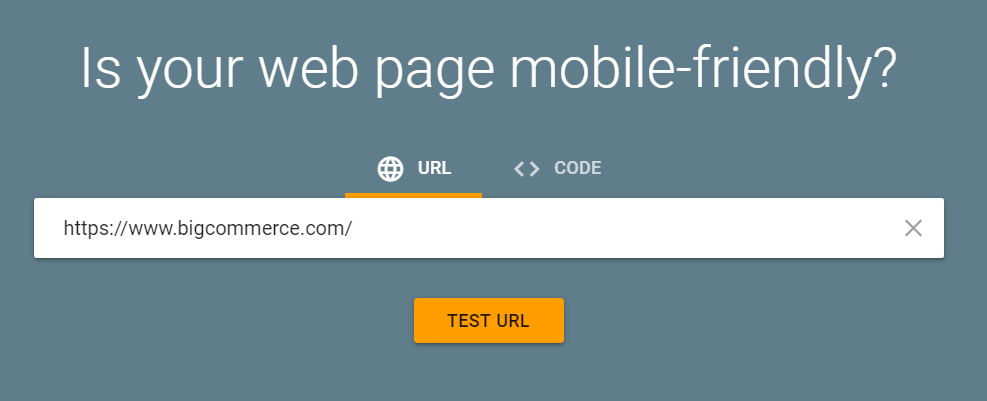 In the U.S. alone, mobile retail commerce sales are forecasted to increase every year from 2017 to 2021 as a percentage of total retail ecommerce sales.
Keep the mobile version clean and simple and ensure your Call-to-Action (CTA) buttons are easy to spot.
Finally, You can save tons of time and efforts by using special software apps to automate a big part of your e-commerce store management, for example, dropshipping order fulfillment, etc
What's Next?
What are some of the non-negotiable things about ecommerce that you'd like to share with our readers?
Are there strategies, warnings, or hidden tricks that you'd like to share?
Feel free to add them in the comments section below. Cheers!