How many of you know about task management software? Since employing these programmes balances cost and functionality, open-source task management software is becoming an option for enterprises. With the correct task management software, you can automate operations like budget tracking, resource allocation, scheduling, and time management. These management tools can be used to coordinate groups and projects. You can also call this software project management software. Task management software is designed to assist organizations in multiplying their growth and success rate.
Being organized helps you produce faster and better results when working on various projects and businesses. Constantly updating and assisting you in staying on track, this software is essential to defeating your competitors effectively. This post discusses seven software possibilities, ranging from simple task managers to full-scale business systems with capabilities like quality assurance, change request control, issue tracking, document conversion tools, and more.
Engineered to help businesses multiply their growth and success rate, task management software help in completion of projects and tasks quite easily. Well-structured, this software helps accomplish project delivery on time and faster, if necessary. With multiple projects and businesses, being organized brings faster and better results. Constantly updating and helping you stay on the right track, here is a list of free open source task management software in the market: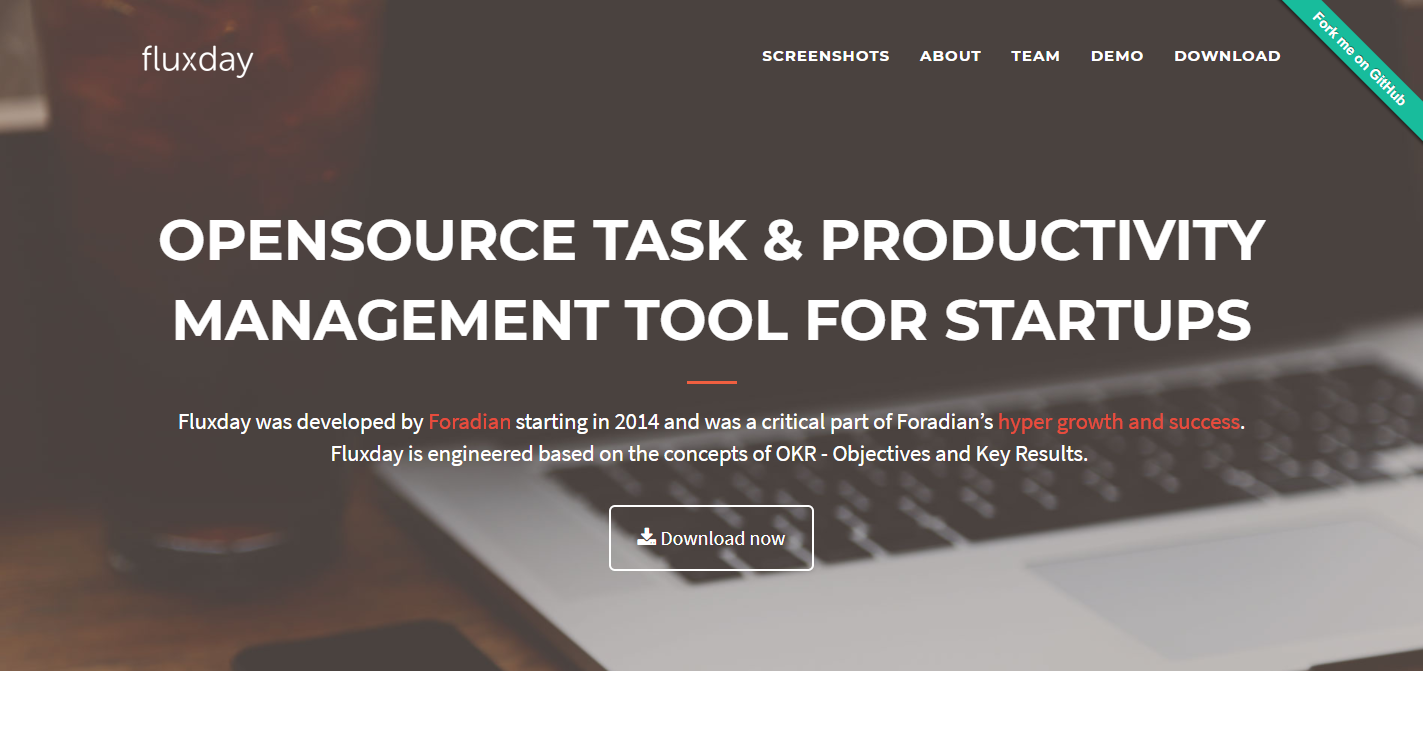 An open source task and productivity management tool, Fluxday helps manage your tasks efficiently. With multi-user schemes, this open source task management tool helps manage all business operations from development to production.
Fluxday was created by Foradian in 2014 and was a key component of the company's rapid growth and success as a B2B software firm in the EdTech market. It is a project management solution intended to assist small enterprises in becoming more productive. Because it is not particularly complex, the Fluxday tool is not ideal for medium-to-larger organisations. It is more advanced than note-taking and organiser apps, but it lacks the functions and tools necessary to assist larger teams in working through projects productively. Fluxday is an excellent beginning point for smaller enterprises and initiatives, particularly because it focuses on important objectives and outcomes.
However, when your company grows, the tool will become obsolete. One of the less pleasant aspects is that the programme is advertised as free, but you learn it is a demo once downloaded. Its simplicity makes it appropriate for smaller businesses with fewer teams. The interface is simple, which reduces staff/team training time and expenses.
Features of Fluxday
Mobile support

Multi-language support

API support

Email support

On-premise cloud-based

Phone support

Customisation
Task coach is an online to-do manager that keeps all your tasks listed out with effective tracking methods and much more. With all types of desktop versions available and fit for all OSes, Task Coach helps sort everything right.
The final free open source task management software is Task Coach. It will manage all of your pending tasks and important dates and meetings, ensuring that you never forget anything and that you can prepare for them ahead of time. By better organising your chores using Task Coach, you will notice a boost in your productivity, making better use of your time and thereby gaining time for other duties or to enjoy your interests once work is done.
Task Coach's tasks can be categorised and viewed as a list or tree structure. They can also be configured separately, and each has its title, description, and proportion of effort. It can also be run on a detachable USB device, allowing you to carry it wherever you go. If you don't have a USB memory stick on hand, you may always export the task list to HTML. It would have been wonderful to have more exporting formats in Task Coach and other tiny items like task reminders that we missed. But these are little quibbles in such a wonderful application.
Features of Task coach
Time tracking

Reminders

Recurring tasks

The synchronisation between iPhone/iPod Touch and desktop

Available for Windows, Mac OS X, Linux, iPhone, and iPad
Helping collaborate work, projects and the team, smart sheet is an open source task management tool that manages projects of any size. Easy to use and available in desktop, tab and mobile phone versions, smart sheet is a life saver for businesses on the look out for a time and project tracker.
In the list of best free open source task management software, the primary one is Smartsheet. It has a solid track record for security, usability, and system availability dating back to 2006. This software is a SaaS, enterprise-ready cloud platform for work management and collaboration trusted by over 80,000 enterprises and millions of users in more than 175 countries. Smartsheet's straightforward spreadsheet-like tool is widely used to track and manage many forms of work, such as team projects and task lists, sales pipelines, client information, event schedule, and business processes.
The Smartsheet platform includes capabilities for workflow automation, content collaboration, form management, project management, scheduling, activity logging, and real-time data tracking, among other things. As a project manager, Smartsheet gives you and your team visibility into what is being done and by who, speed, enhancing agility and accountability. Smartsheet scales to meet the needs of any department across all industries, whether it's managing projects for product development, sales, marketing, or IT teams.
Features of Smartsheet
Agile methodologies

Audit trail

Brand management

Business process automation

Certification tracking

Client management

Data visualisation

Financial reporting
A simple task management software that is free and open source is a dream come true for most businesses and TaskFreak helps with more than that. TaskFreak is project management web application tool that has a lot of plugins making tasks easy to implement.
How many of you have heard about TaskFreak? Simple but attractive and functional task management software is TaskFreak. It is a to-do list and assignment manager that runs on the web. It allows you to organise tasks based on project, deadline, priority, and context. In September 2005, TaskFreak was initially created, and now it is accessible in twenty-four languages. It is simple to install and use. Special consideration has been given to the design and usability to boost productivity by not devoting too much time to the tool itself.
If you want to create several tasks simultaneously, this TaskFreak is an ideal option for you since it is highly fast and simple for the users. By using this software, users can organise their project and context, and according to the priority and deadline, they can order their tasks effectively. As this TaskFreak software is completely open and free, many people feel less stressed using it.
Features of TaskFreak
Easy setup with SQLite or MySQL

commendably user friendly

Single or multi-user mode

Multi-language support

Start and stop the timer

iPhone friendly

Create, edit and delete tasks
With free trial versions and suitable for small, medium and large businesses, Producteev allows team members to view each other's task list and meet project deadlines easily. From keeping track of high priority tasks to enhancing communication between team members, Producteev helps take project management to the next level.
Producteev is a social task management programme that allows you to organise and prioritise project tasks and activities. Tasks are generated within projects as to-do items. Within networks, projects function as collaborative to-do lists. Networks represent workspaces and encompass all of your company's projects, responsibilities, and collaborators. Producteev provides a variety of collaboration options to assist distributed teams stay on the same page and the fundamental ability to create, assign, and track tasks. The ability to add task followers and live activity streams make a familiar social experience within Producteev.
This software is suitable for small businesses, mid-size businesses, and large enterprises and is supported on all platforms such as web, Android, and iPhone/iPad. It now has over 2,000 paying customers, some of whom are major names in their respective professions, since its introduction in 2008 at the Le Web conference in Paris. You can set alerts for your upcoming deadlines and set up some push notifications for mobile devices.
Features of producteev
API

Commenting/Notes

Prioritisation

Projections

To-Do List

Support community

Remainders

Track tasks and projects
Allowing team members to manage workflows easily by analyzing time and resources needed, OrangeScrum helps keep track of projects with ease. With paid plans, free downloadable versions with video tutorials and good customer support, OrangeScrum helps with project management, task management and collaboration as well.
Orangescrum is a one-stop-shop for online collaborative work management software for teams of any size. Organise your projects, gather your staff, and keep your business on track. It offers cloud, cloud self-hosted, and open-source enterprise editions with various features such as Agile Scrum Project Management, Gantt chart, Kanban View, Recurring Tasks, Project& Task templates, task labels, and reminders. Its feature-rich Android and iOS mobile apps make it easy to access your work from any location. Begin with a 14-day no-obligation trial session.
Using this software, based on the type of project, create a logical workflow for your duties from start to completion. Generate, save, and send accurate invoices to your customers. Receive quick email notifications and respond on the fly. With Daily Catch-Up, you will receive daily team updates directly in your inbox. Using the in-app chat, it is simple to interact and brainstorm ideas and request evaluations and approvals.
Features of Orangescrum
Communication management

Client portal

Daily reports

Document storage

File management

Import tasks

Mobile access

Online time tracking

Project templates
From generating Gantt chart reports, real-time reporting and analysis features, Workfront has a dedicated space for employees to manage their task. Workfront also deals with work management, resource management, team collaboration, time management, auditing and more. Workfront is one of the best open source task management tools, with a plethora of features additionally present in the software.
Workfront is the market leader in collaborative work management software. It ties strategy to execution by integrating people and data across the company and managing work from start to finish assisting teams in delivering demonstrable results. In 2001 Scott Johnson founded this software. Workfront provides the business skills required by enterprises to provide excellent client experiences at every step of planning and execution. Enterprise teams and departments, not just project managers, want a single, smart, linked location to handle all their work.
This task management software helps you manage all of your work in one location. Teams consistently receive requests with Workfront, and managers can effortlessly prioritise new projects, assign them to the appropriate team member, and receive real-time progress updates.
Features of Workfront
Change Management

Client Portal

Email-to-Task Conversion

Business Process Automation

Calendar Management

Idea Management

Project Management

Project Planning
Wrapping it up:
Finally, the seven free open source task management software is listed well earlier. Using this software makes complex activities appear smooth and efficient, but it also assists your organisation in meeting deadlines with ease. But make sure you utilise it correctly because it's not just about using an online task organiser but also about how efficiently you and your team use it to become more productive and effective. Consider the seven software and begin to use the right one for you and your business.