Losing data on the iPhone can be a very serious matter, whether due to accidental deletion (operational errors) or system errors (reset, viruses). Because people use mobile phones nowadays with high frequency, saving priceless photos, important contacts, and even business-related business information on iPhone. Therefore, businesses in the market began to respond to demand and released various iPhone data recovery software.
This article lists the top 5 iPhone data recovery software in this field, describes its use, good points, and disadvantages.




All are tested with iPhone 6 and a Win 10 Dell computer. Most iPhone data recovery software can get back lost data including photos, videos, messages, WhatsApp and more. Besides, free trial version is provided so that users can scan the recoverable files before paying. All are paid software, but some of them offer free trial like recovering 5 lost contacts.
1.FoneCope iPhone Data Recovery Review
FoneCope iPhone Data Recovery is a professional iOS data recovery software designed to cover up various types of data up to 20, and you can preview specific item details before deciding whether to recover the file. Besides, it supports most iPhones, iPads, and iPods, regardless of old and new devices.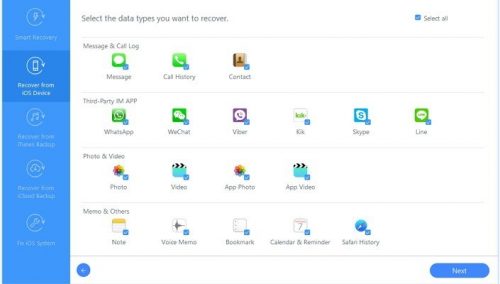 Test and Use:
FoneCope iPhone Data Recovery tool looks very simple and easy to use, the actual use of the process is also like this, its function point is clear. And FoneCope scanning speed does a better job than other similar products.



Pros and Cons:
I tried the FoneCope Smart Recovery, and the operation is very simple. Anyone can use it with the step-by-step tutorial. It did recover the deleted files on my iPhone, fast and safe. Beyond my expectation, I find one interesting thing that FoneCope can also fix iOS system issue like iPhone stuck or frozen. However, you can access the above function only if you pay the software.
2. Dr.Fone (Recover) for iOS Review
Wondershare Dr. Fone for iOS is a good full-featured data recovery software, not only can effectively restore the lost data of iPhone, but also can easily run on Win or Mac computer, because it provides 2 versions. You need to pay online for Dr.Fone iPhone Data Recovery to get a lifetime license for 1-5 devices.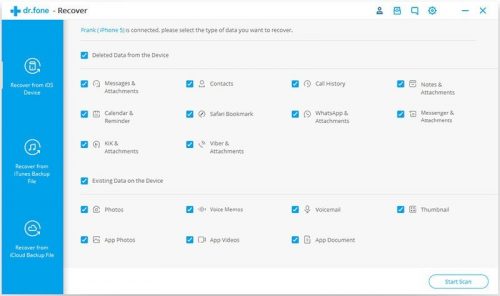 Test and Use:
Dr. Fone (Recover) scanned my iPhone for about 40 minutes after connecting the phone to the computer. It can detect a variety of deleted data. Apart from photos, videos, and bookmarks that are just removed for testing, other long ago deleted contacts, text messages, and call records are also in the recoverable list, which was beyond my expectation.
Pros and Cons:
It can recover most lost data gratefully, but not all of them are intact. For my missing contact, it recovers names and photos, but does not receive the phone number attached to them.
3. iMobie PhoneRescue iPhone Data Recovery Review
PhoneRescue is iPhone Data Recovery software developed by iMobie. It is a good data recovery software that helps Apple users rescue deleted or lost data. PhoneRescue is secure and is a 100% free malware issue.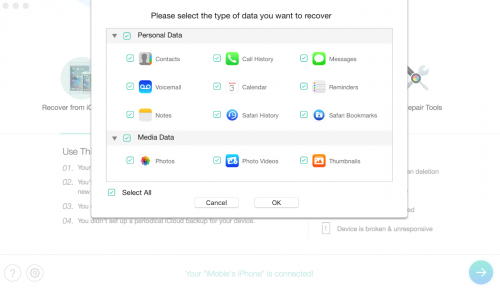 Test and Use:
PhoneRescue quickly scanned my iPhone and listed plenty of deleted files, much as DR.Fone. But I am somewhat surprised that it not only lists the files that have been deleted, but also lists the items that are still stored on my phone. I have not deleted these data. However, this makes it look a bit messy. I need to search for a specific file name to find the file location of the feature directly.
Pros and Cons:
There are four iPhone data recovery modes that can efficiently recover lost files. And it also has a special feature that can directly restore the retrieved data back to the iPhone. But the whole process is a little time-consuming. It is better to save the recovered items to a computer's local folder first.
4. AiseeSoft FoneLab iPhone Data Recovery Review
FoneLab iPhone Data Recovery software, developed by AiseeSoft, allows users to get back lost data from iPhone with simple steps. What's more, it says that it can retrieve data from iPhone after jailbreak failure.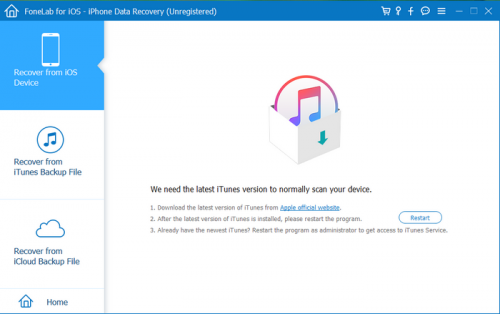 Test and Use:
AiseeSoft is able to recover 19 file types and fully compatible with Win and Mac computer.  And the design and interface are so much alike FonePaw. But it took a little bit long time to have my iPhone connected and scanned.
Pros and Cons:
Comparing to other iPhone data recovery tool, AiseeSoft FoneLab has a better price, not expensive as others. But it takes a longer time to scan and recover lost iPhone data.
5. FonePaw iPhone Data Recovery Review
FonePaw iPhone Data Recovery program is specifically designed to recover accidentally deleted items, supporting up to 19 types of files. Moreover, it's able to recover lost data from iPhone after iOS updating.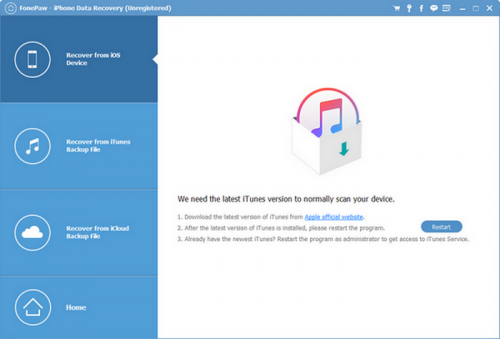 Test and Use:
The size of FonePaw software is relatively large. It took me about 8 minutes to complete the download. Compared to other iPhone data recovery tools, FonePaw's speed of scanning as well as recovering data needs urgent improvement. But it still can recover most of the iPhone data that was accidentally deleted.
Pros and Cons:
Although FonePaw has a slower scan speed, it has an option that allows you to skip scanning the existing files on iPhone. This eliminates time on scanning items that have not been deleted on the phone.
Conclusion:
The best 5 iPhone data recovery software have already been discussed in this article. Some information and test process records are clearly described in the previous section. If you are looking for a software that can retrieve iPhone data, then this article surely can help you in selecting a suitable one.