Description
Elvis is one of the best Enterprise Solutions offered by the Aries Estrrado Technologies Private Limited. We help you to do your job in the best possible way so as to get a better result regardless of the industry involved- either Education or Financial Management and even more.
Business and office management software | Education Management ERP System offers school, college management, employee, student management and more.
Features
Software Key Features: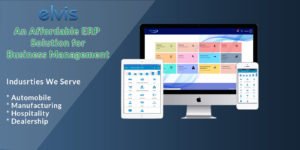 ELVIS Business ERP enables you to get a 360-degree view of your business, anytime, from anywhere by putting all your business functions on to one single platform and automating and integrating them end-to-end. With this unified view of business, you can drive innovation across the value chain, improve efficiency, and reduce costs and time to market Aries Estrrado has changed everything when it comes to campus solution. We focus on simplicity and usability by avoiding cluttering interface and complex task for a pleasant user experience with Elvis Education ERP Software. Elvis Education ERP Software from Aries Estrrado is a comprehensive campus management system. Elvis is one powerful, completely integrated ERP for your entire campus.
Contact