Description
Tech Cloud ERP is an enterprise-wide information system that facilitates the flow of information and coordinates all resources and activities within the business organization. Of all the software an organization can deploy, Tech Cloud ERP is the Best ERP Software Providers in India, which has potentially paved the way for the most direct impact on reducing costs. Our software integrates all business processes including inventory, manufacturing, sales and marketing, purchase, human resources, asset management, plant maintenance, quality control, and finance. We aim at providing full-fledged services to the clients focusing on long-term relationships and value-added services.
Software Features
Software Key Features: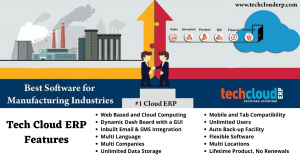 Software Specialties
Mobile Support
Mobile Platform
IOS, Android, Windows Mobile, Black Berry
Desktop OS Support
Web App, Windows, Macintosh
Multi Language Support
Payment
One Time Payment, Yearly Payment
API Support
Technical Support
Phone Support, Chat Support, Email Support, Video Tutorials, Knowledge Base
Is it cloud based?
Open Source
Yes
Software Suites for?
Small Business, Medium Sized Business, Large Business
Software Demo Link:
https://techclouderp.com/tcerp-demo/
Video
Contact
Person

Tech Cloud ERP

Address Tech Cloud ERP Software Solutions Plot No. 194C/18B, Imperial Square, Pathrika Nagar, Street No. 5, Madhapur,
Hyderabad - 500081.