We often hear about people getting affected by corrupt PST files, but its impact is not possible to realize until you face it by yourself. Exactly this thing happened to me last summer and its consequences were terrible. Luckily, one of my friends recommended me SysTools PST Splitter. This tool relieved me from the issues occurring because of corrupt PST files. It smoothly split Outlook PST file based on date. In this product review, I will share my experience of using this fabulous software. I will also discuss the procedure of PST file splitting besides pros and cons of this program.\
PST Splitter: An Overview
As we all know, corrupt PST file is the root cause of a number of issues in MS Outlook. Splitting PST files can help users get rid of these issues. This software can split all items saved in PST files, including emails, contacts, calendar, and tasks. Splitting can be done by using the criteria of date, size, folder and year. Both active and archived PST files can be processed by this program. Compatibility with both ANSI and UNICODE PST files make this tool winner above all other tools. This application is designed in such a way that anyone can operate it easily. It also got no file size limit for Outlook PST files.
In order to perform PST split, this tool requires the installation of MS Outlook on the system. This utility is compatible with Windows 10 and all other versions of this Operating System. It also renders support for 32/64 bit Outlook.



Specification of PST Splitter Software at Glance
| | |
| --- | --- |
| Developer | SysTools Software |
| Functions | Split Outlook PST File Without limitation |
| Current version | 4.5 |
| Size | 9.7 MB |
| Interface | Graphical User Interface |
| MS Outlook Installation Required | No |
| Windows Version Supported | 10 and Below Versions |
| Trial version | Available for free |
How did I Operate SysTools PST Splitter Tool to Split PST File
I used these steps to split Outlook PST files with the help of this software:
1. First of all, I have bought the full version of PST Splitter application from its official website.

2. Then I have installed the tool on my system and launched it. I clicked on Split tab situated on the welcome screen.

3. On the next screen, I chose "MS Outlook 2003/ 2007/ 2010" option. There is also an option to select "Microsoft Outlook 2000/ 2002" that others can choose.
4. On the same page, there are four options to determine how to split. I have chosen Split by Size according to my need and then click on Next button.

5. I clicked on Browse button to select the PST files I want to split. After selecting, I clicked Open button and the file got displayed in the program window.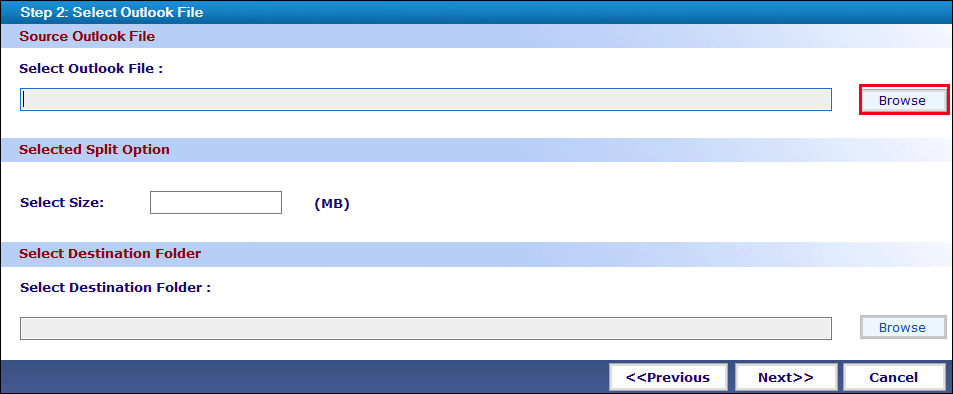 6. I have selected the date based on which I wanted my PST file to be split. Later, I also chose the destination folder for this tool by clicking Browse under "Select Destination Folder." After selection, I clicked on OK and Next buttons respectively.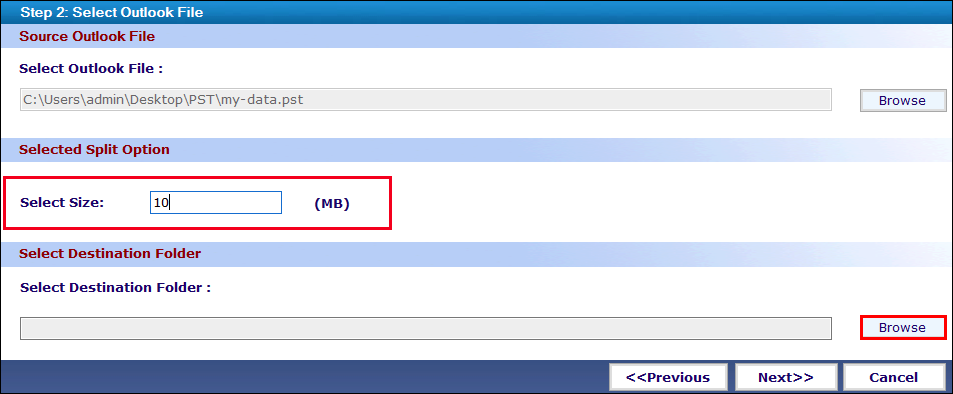 7. Then I clicked on the Split button. The software started functioning and the live status of the process was shown on screen. Once it had been done, I got notified by a pop-up message.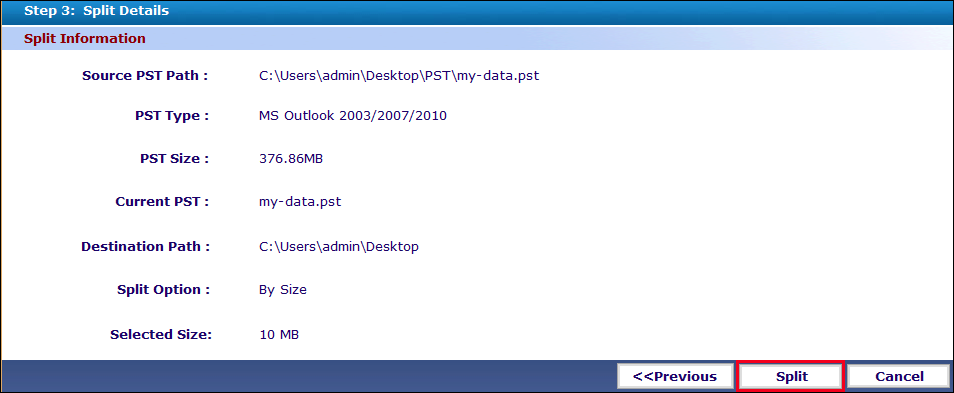 As you can understand, it was really easy to split PST file using this software.
Highlighted Features of PST Splitter Application
Support for ANSI and UNICODE PST File: This tool provides options where users can choose PST file type.
MS Outlook 2000/ 2002: These two versions of Outlook saves data in ANSI format. Select this if you have to split ANSI PST file.
MS Outlook 2003/ 2007/ 2010: Users with UNICODE PST file should choose this option.    
Splits PST File based on Various Attributes: If you use this program to split PST files, you can split them based on these four criteria:

Split by Date: PST file will be split based on a date given by the user.
Break by Size: One large sized PST file will get divided into multiple PST file of preferred size.
Split by Year: Users can input year and this option will split the PST file based on it.
Break by Folder: This option will divide PST file into each folder.   
Versions of PST Splitter
There are two different versions of this tool available. Have a look at what these two editions offer:
Demo Version: This version can be downloaded from the official website of PST Splitter. This edition will not cost you a single dime and help you get an how well this program works. This version will split first 50 emails of a PST file.
Full Version: Once you are completely satisfied with the performance of the trial version, you can purchase the full version of this software. With this full version of this program, users can split an unlimited number of PST items. From my own experience, I can say that every penny spent on this utility is worth it.
Pros
Offers different options like date, size, etc. to split PST files
There is no file size restriction as such for PST files
Compatible with both ANSI & UNICODE Outlook PST files
Splits all PST items including contacts, calendar, and task
Supports both 32-bit and 64-bit Outlook and Windows OS
Cons
This application will not perform without MS Outlook installation
Conclusion
This is a fantastic tool to split large sized PST files easily. With its four criteria for splitting PST, this PST Splitter has the ability to meet demands of all type of users. By splitting oversized Outlook PST files efficiently, this tool can spare users from a number of inconveniences. I would love to rate this application 9.7 out of 10 based on my experience.