Microsoft is the world's largest software maker company by revenue, no second thoughts to that. Its best-known products are Windows Operating System and Office Suite. Both of these products have dominated their respective market. On a personal note and a Windows user, we already know its importance.



Although it is one of the most dominant Operating systems, it is also vulnerable to errors. There are instances when your data gets damaged or corrupt due to inevitable reasons or that your operating system gets corrupt. As a consequence, we end up losing access to our important data such as word file, presentation, emails, spreadsheets, video/audio files, photos and so on and so forth. Sometimes, unintentionally, we end up deleting our files, which is a commonplace situation.
You may lose access to your data due to several reasons such as corrupt file system, crashed OS, damaged partition structure, hard drive failure, human error, virus intrusion, and other technical glitches. To counter that, there are several Windows Data Recovery software available which aims at recovering lost or deleted files, and that too, efficiently without altering the original data. Recently I have tested Stellar Phoenix Windows Data Recovery for recovering lost data from hard disk. Let's have a look at its varied features.
Outlining its features
First things first, it is quite easy to install and run the software. Simply click-and-go approach and within a few seconds, its main interface window will appear. So, the installation process is hassle-free and is not time taking. Moreover, Stellar Phoenix Windows Data Recovery – Home has no such heavy requirements, with a minimum memory requirement of 1 GB and a free space of 50 MB, you're good to go.
Minimum System Requirements:
| | |
| --- | --- |
| Processor | Pentium Processor |
| RAM | 1 GB minimum |
| Hard Disk | 50 MB of free space |
| Operating System | Windows 10, 8.1, 8, 7, Vista & XP |
After installing the software, the next step is to choose the type of data that you want to recover. Again another impressive feature as it can really save you time from scanning the entire folder and instead look specifically for the file you want to recover.
For instance, if you want to recover everything, then simply select the check-box next to All Data and if you want to recover multimedia files, then select the respective check-box.
In my case, I wanted to recover my deleted folder (my folder had photos, excel sheets, a series of my favourite sitcom); therefore, I chose only Folders tab under Documents, Folders & Emails.
Saved me a great deal of time.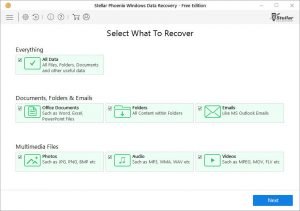 After selecting the file type, the next step was to choose the location. As I have had stored the folder on my external hard drive, I connected it to the PC and simply chose New volume. The good thing is that irrespective of the storage device, this software can recover your data efficiently.
In case you're unable to find the location, then you can opt for Other Location and simply search for it.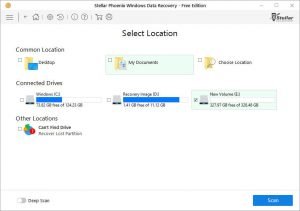 Till now everything was smooth. Now it was the scanning process and this is when it got real. As it has powerful scanning algorithm, it didn't take long to scan for the recoverable files. Furthermore, it has scanning progress status i.e. estimated time left, total files found, estimated time left, etc.

Scanning Options:
Stellar Phoenix Windows Data Recovery – Home provides you with two scanning options i.e. Quick and Deep Scan.
Quick Scan: You can quickly scan the files that you want to recover and is helpful in most of the cases. The scan process is rendered quickly.
Deep Scan: Deep scan is a thorough scanning of the files and folders. If you're unable to locate the file, then the Deep Scan option will be helpful.
Stellar Phoenix Windows Data Recovery – Home has another impressive feature of Resume Recovery i.e. you can resume the scanning process, save it and then resume the scanning process later. I did exactly the same, paused the scanning process, saved the process as DAT file and then resumed the scanning process without going back to square one.
This is considerably useful, as sometimes, the scanning process takes time due to the amount of data; therefore, you can pause the process in between, save it, and then later resume the recovery process. Definitely one of the flagship features of Stellar Phoenix Windows Data Recovery – Home.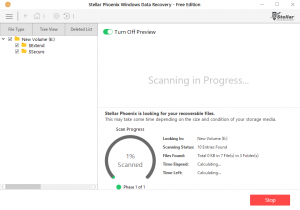 Another thing is that during the scanning process, you can preview the recoverable files. There is a Turn on/off Preview option. During the scanning process, I turned on the preview option and as soon I got the preview of the file I was looking for, stopped the scanning process and proceeded further with the recovery process.
Another time-saving feature.
After the completion of the scanning process, I have had the option of previewing the recoverable data. I then selected the files that I wanted to recover and saved it to the desired location. To select multiple files, I simply select the check-box next to the respective files.
You can select multiple files simultaneously and save them at once. Another exemplary feature of Stellar Phoenix Windows Data Recovery – Home.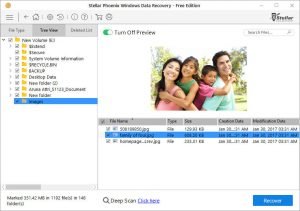 Finally, I was able to recover my deleted folder and that too, without any ambiguity. It's simply a do-it-yourself windows data recovery software and doesn't require prior technical expertise. A must have product for someone who is not familiar with the technicalities and doesn't want to meddle much with the recovery process.
Overall, the data recovery process was faster and efficient.
What Stellar Phoenix Windows Data Recovery – Home has in store for you?
As already mentioned, Stellar Phoenix Windows Data Recovery – Home is capable of recovering all lost or deleted data. Be it —
Office documents (such as Word, PowerPoint, Excel)
Emails (MS Outlook Emails)
Photos (such as JPEG. JPG, PNG, BMP)
Video Files (MPEG. MOV, FLV etc.)
Audio Files (MP3, WMA, WAV etc.)
In a nutshell, its significance features are listed below:
Efficient, secure, and hassle-free data recovery process
It is capable of recovering data from formatted hard drives
Recovers data from all the readable storage devices (USB, SC cards, portable hard drives etc.)
Supports a wide range of file types for Windows Data Recovery
Recover files, folders, documents, emails (MS Outlook), audio/video files and that too in simple steps
Faster and efficient scanning mechanism with detailed scanning status
Supports search of specific folder or file format
Option to Turn On/Off Preview of files during scanning process
Automatic switches to Deep Scan from Quick Scan
Compatible with Windows 10, 8.1, 8, 7, Vista & XP
No prerequisites as such for its installation
Option to Scan Multiple File System (NTFS, FAT, FAT16, FAT32 and exFAT) in a logical drive
Option of Resume Recovery
Final Verdict
After testing the functionality of Stellar Phoenix Windows Data Recovery – Home, I can say that it is indeed a viable option for windows data recovery.
Simply put, Windows data recovery can be performed within a few steps i.e. connect the device to PC, run the software, locate the file and scan it and finally, recover and save that file to the desired location. With its optimal performance and efficiency, it is worth a try.