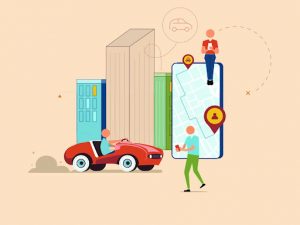 Are you wondering why online ride-hailing became so popular so quickly? Well, it is true that success was never clearly visible during the early stages of this new trend but has become mainstream overnight for commuters and travellers. We were rooted in traditional ways, and replacing them would require a giant barge with the utmost consistency.
It took far more than their best efforts to convince potential customers and captains that ride-hailing apps could create an entirely new local commute concept. A decade ago, Uber began disrupting the transportation industry, and today many companies are leveraging on-demand business models.
As a result, Uber has provided its competitors with an incubator. The industry is flooded with ride-hailing companies, including Lyft, Didi, Grab, Gojek, Ola, Bolt and many more. Massive growth and rapid evolution characterize the mobility industry, and we can hardly remember a world without the ride-hailing apps of today, which were founded within the last decade.
The popularity of ride-hailing services has increased in the past few years due to their reduced travel costs, reduced traffic congestion, and reduced fuel emissions. COVID-19 will, however, bring a loss in demand for ride-hailing services by resulting in an uptick in transportation costs.
Are you running a ride-hailing business? Want to know what trends will impact your business's profitability? Keep reading.
Ride-hailing Industry Trends for 2021 and Beyond
For taxi companies, reaching their customers has never been easier. The global online ride-hailing market is expected to be worth $230 billion by 2026. More and more passengers are willing to travel safely and privately amid this pandemic situation, and this mentality might act as the catalyst behind the staggering growth of the ride-hailing business.
A global pandemic such as Covid-19 might have contributed to this hypergrowth. Conventional taxi business owners have become increasingly dependent on third-party taxi booking apps as it helps them to stay afloat in the saturated market while other business giants will upscale investment into taxi booking solutions to explore abundant opportunities.
Undoubtedly, the work from culture has affected the entire industry, but the ride-hailing industry has no intention of abandoning COVID-19 anytime soon. Demand for private transportation services is expected to grow as the sector grows. In case you're planning to get auto insurance, check the plans offered by Insurance Navy that can help you.
Shortly, you can expect the following trends in the taxi-booking market,
Ride booking apps continue to thrive
Ride-sharing making it easier
Rise of super apps
Car and bike rental service
Electric vehicles are the future
Today commuters can't imagine a world without ride-hailing apps because it is now a preference for them to take a bike taxi instead of waiting in the long lines of any local bus stop or taxi stand. Let's explore the trends above in detail.
Ride-hailing Apps Continue to Thrive
Cab booking has long been established as a fundamental principle. The phenomenon of ride-hailing apps like Lyft, Ola and Uber, which provide a platform to independent drivers, has shaped mobility over the past decade.
Research by the renowned World Resources Institute (WRI) found that India's car-sharing industry is booming and could reduce car ownership in the long run. These ridesharing apps are designed to harness the power of cars already on the road and help people travelling in the same direction to do so together to reduce congestion and pollution.
Ridesharing Apps Saves Money
People often consider ride-hailing services as ridesharing services, but this isn't entirely accurate. Single passengers travelling together can go to the same destination with their fellow passengers and split fair by accompanying them; there are also several advantages to ridesharing such as
Solve traffic issues
Cost-effective rides
Reduced traffic makes it possible to reach the destination quickly
Ridesharing services like MoveInSync, Shuttl, etc., are available for office transportation as well. Several companies offer employees the option of hiring a bus for a single day, for a week, or for the whole month.
A startup in this niche usually faces the issue of managing fleets, but vehicle management software and trained drivers benefit the business.
Rise of Super Apps
As a pioneer in transforming mobility and services, super apps (such as Grab, Gojek) fulfil multiple consumer needs on one platform. These apps also collect a large amount of consumer data.
The whole ride-hailing market has been changed due to these apps. Even some ride-hailing apps have started delivery services to cope with the pandemic loss. For instance, Uber has launched UberEats and disrupted the growing food delivery market across the USA and other countries.
Small business owners use the best CRM software to streamline their operations; the same way, the super app allows customers to perform multiple tasks under the same roof. There's nothing more appealing than a platform where users can access all the services they need – from food delivery to hospital care to banking; you name it!
Car and Bike Rentals
As on-demand services are growing, riders' needs are changing at the same time. The increasing popularity of vehicle rental services contributes to the need for modern riders to have greater control over their rides.
Rental rates for motorcycle and car services skyrocket during weekends and holidays, even though the services are gaining traction. Currently, the rental vehicle industry is showing steady growth.
Electric Vehicles Holds the Bright Future
The world is currently undergoing massive changes, be it transmission preferences or fuel types. Energy from electricity has now gained a position as one of the most biodegradable and environmentally friendly forms of fuel.
According to auto industry leaders, electric cars would cost you less than a rupee per kilometre. Companies are gradually promoting electric vehicles with more intensity, and as a result, combustion-fueled vehicles will fail to survive in the future due to the transition to electric-powered ones.
The Ride-hailing Industry Post-COVID
As more people work from home, cities will change, reducing commuters and moving them away from large urban areas. Public transportation will become less reliant on this trend. Even after the pandemic, people will prefer to travel safe and avoid public transportation; ride-hailing apps, which is the most convenient form of shared mobility, will flourish as a result.
Since the pandemic has severely affected taxi/cab services, they are near-essential. With public transportation posing a higher risk for infection spread, both the need and a burden on online taxi services are only expected to grow.
Ride-hailing providers must develop a mobility ecosystem that is holistically beneficial to society, even if a 'work from home' scenario makes this unlikely. Considering the current future scenarios, there is great potential for ridesharing companies. Startups even opt for SaaS solutions as they open up many business opportunities while spending less.
The success, however, will belong to firms that are highly active and know the market well. As autonomous driving technology grows in popularity, it will significantly impact personal mobility and enhance ride-hailing services.
Ride-hailing Business will be a King in the Coming Years
As mentioned above, the global ride-hailing market will continue to grow, and it means there are ample opportunities for those daring to dream of availing success like Uber.
In the wake of COVID-19's intensity waning, businesses will have to turn their attention from remote work to resume corporate travel once restrictions in various countries are eased. The new normal for business travel will require safe riding options, and here, ride-hailing apps play a crucial role.
No doubt, profitability was a question for rideshare "unicorns" amid the pandemic. Growing online taxi booking requests at an unprecedented rate presents a once-in-a-lifetime opportunity for transport businesses to expand their customer base and ROI.
Entrepreneurs also need to observe how travel becomes far more mindful and well-planned as the new standard takes hold. As firms integrate safety measures and re-evaluate policies to offer a safe and convenient riding experience, firms will easily win customers' trust.