Do you know that the term "webinar" gets searched around 22,000 times each month?
More than a decade ago, hardly anyone knew the term "webinar." In recent years however, the word has strongly established itself among online instructors, product evangelists, and the like. The increasing demand for webinars is also reflected in graphics from Google Trends. The term attracted little interest in 2004 but immediately ballooned at the beginning of 2013 and has kept its clout until today, as seen from the graphic below: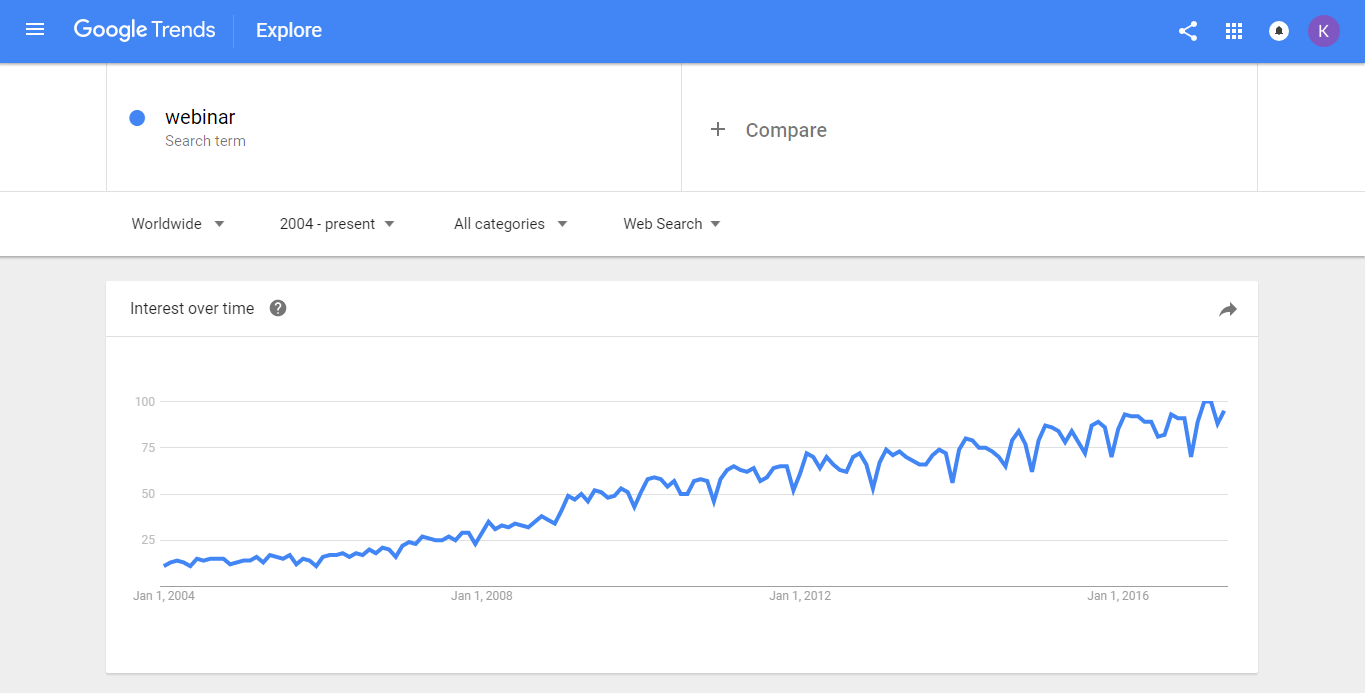 The business world is becoming more and more fast-paced by the minute. The lightning-fast exchange of information immediately paved the way for an amplified need for communicating in a virtual setting. A webinar is a good example. Today, people would often opt to host webinars in lieu of having a real-world seminar, complete with a venue and a physical audience.



There are a number of reasons why people choose to conduct this type of virtual event. Some would choose to conduct webinars to promote new products or educate customers about a new feature for a service. Others would hold webinars to connect to like-minded individuals from a certain niche. Some would use it to engage with a target audience in hopes of generating new leads or making actual sales.
People also use the terms "web event," "online seminar," or "virtual event" as alternatives when referring to webinars. Essentially, the main goal of holding a webinar remains simple. It's proven to be an effective tool to impart knowledge or information to an online audience.
Below are some of the other benefits a webinar provides:
Multiple devices. Webinars would only require participants to use devices such as personal computers, tablets, smartphones, and the like. Physical presence isn't required.
Multiple software options. With certain webinar tools, participants can even skip the daunting part where software installations are required. They only have to launch their browsers and instantly join meetings by clicking on links.
More interactive. The interactivity that webinars provide is unparalleled. Participants can opt to start chatting with fellow participants, ask questions, participate in polls, or share other useful textual and audio-visual information like PowerPoint presentations on a per-screen basis – something that can't be easily done during a live seminar.
Less stressful. Webinars can reduce, if not completely eliminate, jitters on the part of the presenter. Not having a live audience can certainly help some people concentrate on the message they're trying to convey.
Wider reach. Webinars offer a wider audience reach. You can easily interact with a U.S.-based audience even if you're operating in an obscure European city. Anyone around the world who has your invite or has signed up to your event with a working internet connection can join.
Targeted reach. A webinar also gives you the chance to choose your targeted audience carefully. With this, you'll know you're speaking to the right prospects. Plus, even after a webinar is over, you can continue to keep in touch with them because you already have their contact details.
Live or replay. Another thing to love about webinars is that participants can join as the events happen and then watch the sessions again when they're over. This is always advantageous for members of your target group who missed your broadcast.
Cost-savings. Webinars provide great savings in terms of time, money, and logistics. They eliminate the need to travel (for both the host and the participants). They're also a lot more inexpensive when compared to holding a physical event wherein you would need a venue, food, accommodations, people on the ground, and so on.
Just remember, though, that a webinar is just a tool. Its effectivity for your organization or business will still rely on whether or not you provide value and engage your audience in the best possible way.
Have you tried hosting or participating in a webinar? What are your thoughts on this advanced form of communication that has been changing the way people do business? How has it impacted your organization in the last few years? Share your insights below.
Author Bio:
| | |
| --- | --- |
| | Klaris Chua is a digital content marketer who has written many pieces on startups and small business communications. She used to be a reporter for a business newspaper but the conventional path of a writer didn't appeal to her. You can connect with her on Twitter. |