Construction technology continues to reshape the industry's overall landscape. This is evident from the fact that everyone involved in construction work from project managers, subcontractors, developers, project owners and even engineers are better connected now more than ever.
But how are they using technology to connect better than before? Well, applications for devices such as smartphones and tablets have led the way for the integration of modern technology in construction. The continuous introduction and synchronization of smart technology, specifically those applications designed to streamline construction processes, have positively impacted the field. The use of construction apps such as geniebelt, have not only saved contractors time, but they have led to organizational improvement while fostering increased collaboration on ongoing projects.
In order to help you familiarize yourself with some of the applications presently being used in construction, below is an overview of 5 construction applications that have proven to be extremely ideal for subcontractors. They include:
1. Bid City
This application is specifically designed to help you accomplish set objectives and complete construction jobs more efficiently. As part of the industry, you are aware that the future of construction is bright for contractors as well as crew members who have their feet on the ground and make extensive use of these applications. Keeping up with leading technology is a game changer for those who wish to get ahead.
2. Safe Site
Have you ever thought about being able to save lives on site while also saving on paper? Well, know that it is now possible. Safe Site app was developed to assist construction professionals in decreasing the number of workplace injuries while at the same time increasing overall site productivity, reducing paperwork, and above all keeping everything organized in a single app.
More specifically, Safe Site serves as a digital solution for field workers to carry out safety inspections, upload checklists and also export completed forms with utmost accuracy and speed while at the same time ensuring compliance. Even better, through the app you can log safety hazards and observations as well as notify responsible parties of required safety solutions, then track and log the progress of each solution along the way.
3. Co-Construct
Have you ever wished that you had a second opinion on site – another project manager who could help you evaluate, bid and even see a particular project to completion? Well, with Co-construct you can rest easy and have that person stored in your pocket. The Co-Construction application is designed to serve as a project management tool for home builders as well as remodelers. It is able to store the required information to build or create a new model of an upcoming project.
In addition, it can be used through every stage of an ongoing construction project from the initial bidding process to its logical completion and beyond. You can use of the app to create estimates for various stages of construction, draw up proposals as well as invite and manage bids from subcontractors. With this app, you will even be able to store all of your specifications and plans to track project costs while onsite.
4. Fieldwire
While there are many applications available to make your life easier, sorting through them all can quickly become an intimidating process. Fieldwire makes this search worthwhile. This construction application is specifically designed to assist with onsite task management and was actually designed by construction professionals. Fieldwire helps to quickly and easily delegate responsibilities from out in the field or in an office setting.
Besides being able to create tasks that are tied to blueprints, job sites and other projects, you can categorize these tasks by job type, specify a deadline, priority level, choose related tasks, checklists, add photos and input notes wherever you see fit.
5. Geniebelt
Arguably one of the best construction project management applications on the market, Geniebelt is based on an innovative, yet simple idea. Unlike other construction applications, Geniebelt is centered on a freely shared, real time interactive project Gantt chart that can be easily accessed remotely from a desktop or smartphone.
As an experienced professional, you will agree that communication is the key to success when it comes to completing a construction project. Through the continuous sharing of live project information, the rest of the construction team is optimally equipped to get things done faster. Geniebelt simplifies collaboration of responsibilities. Simply put, geniebelt serves as a guarantee to foster onsite collaboration in a smarter and more effective way. Because of Geniebelt, all of your construction projects will be completed faster and more efficiently.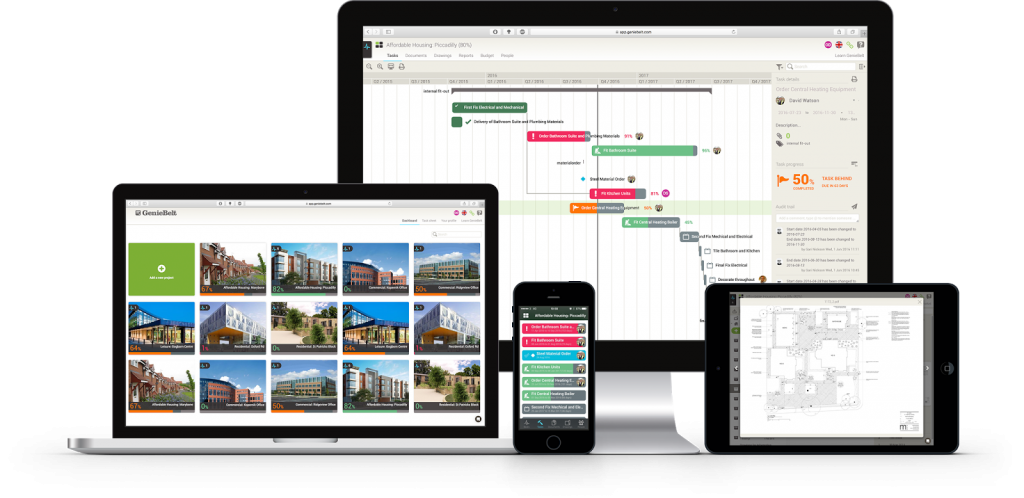 Summary
Everything taken into consideration, it goes without saying that using any application serves as a guarantee to streamline the construction process through the use of technology. This will in turn lead to increased productivity on site while encouraging the completion of ongoing projects ahead of schedule. Simply put utilizing a project management application will save you time and money.
About the author: Derek Hartman for GenieBelt.