Open source ticketing systems or help desks solve a major problem that growing companies face these days that is an increasing number of requests and issues related to products and services from customers as well as employees. Every problem is assigned a number and saved as a ticket in the company's database. Guidance is given for various issues regarding electronics, computers, clothing or software through toll-free numbers, web-forms, text messages or email.
There is a variety of open source ticketing systems available that have similar functions and features as that of top help desk software like Desk.com, HappyFox, Kayako and many more
Here we list the 7 best open source ticketing systems :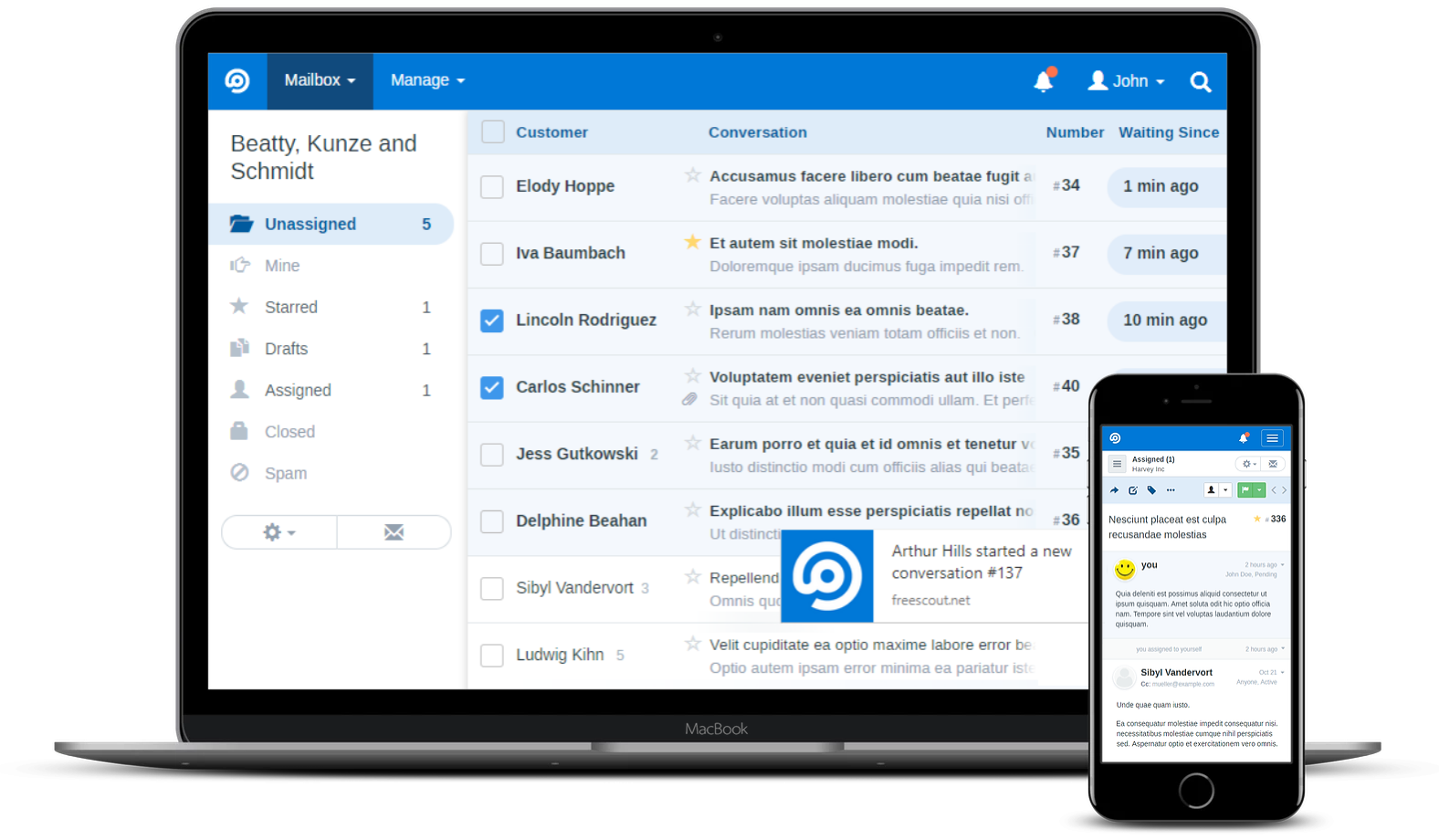 FreeScout is the super lightweight and powerful PHP-based free open source help desk. It can be easily deployed even on a shared hosting. FreeScout is the perfect help desk solution for those who want to provide professional customer support. It allows you to enjoy the same functionality as provided by Zendesk or Help Scout without giving up privacy or locking yourself into a service you don't control. Every single aspect of FreeScout can be adjusted for specific needs via custom modules. Helpdesk is integrated with Zapier and Integromat. Some of the main features: modern user-friendly interface, 100% mobile-friendly, seamless email integration, multilingual, push notifications, free mobile apps for iOS and Android, open tracking, internal notes for support agents, auto replies, API, LDAP, saved replies, end-user portal, knowledge base, live chat, integration with WhatsApp, Telegram, Slack, Twitter, Facebook and more!
It is one of the most successful open source ticketing systems worldwide and supports 38 different languages. The service management software improves with every new update with respect to fixation of bugs and adding new features. It has a very user-friendly interface available on both smartphones and tablets with a variety of themes to choose from. There is a special notification system that sends alerts through text messages to the customers. This helps users to get delivery dates, passwords or to track orders more conveniently on their mobile phones. Ticket locking feature restricts only 1 user to work on 1 ticket at a time which prevents collisions. Tickets can be sorted in a desired order based on priority, type, bug fixing time, opened, pending and many more. Also, OTRS is a highly secure helpdesk software which requires permissions for data transmission and has encrypted communications
It is a web-based bug tracking and helpdesk software which is very easy to install and use. The application is available on both IOS and Android. Notifications are sent via email through which users can send emails regarding projects, feedback or any comments to the company. The software has advanced search and filter options for the users. Another helpful feature is that the reports can be obtained in graphical or written forms according to the needs of the user. The projects are divided into two parts: public and private where the public ones are accessible by all users and the private ones are accessible by a few team members only. Mantis Bug Tracker also has a roadmap feature designed to track all the bugs fixed in a project.
Request Tracker is a very well established ticketing system and has a large developer base, which contributes to its regular updates. This software is used by thousands of different types of websites around the world. Request Tracker is developed using object-oriented Perl platform, and this is quite efficient than many other ticketing software. Request Tracker contains separate module packages for performing generic tasks such as task identification, scheduling, prioritization, assignment, resolution. This software is also enabled to send notifications over the internet regarding applications such as project management, help desk, NOC ticketing, software development and CRM.
Like Spiceworks, osTicket is also an absolutely free open source help desk application which has even better features than some of the expensive help desk software available in the market. There are various custom options for the company to filter and sort the responses so that the issue can be solved by the designated department. osTicket supports HTML email and requests are also accepted via phone calls and web forms. There is also a feature which enables the company to lock a particular ticket to prevent multiple responses. This ensures that only one user from the company responds to that particular request. In addition to this, there is a provision to track the tickets to verify if it reaches the right department. Customized replies can also be sent whenever a request is received or when a ticket is generated.
this software is specifically designed for developers who can track bugs and defects which further give quality assurance. There are provisions to manage the amount of communication received and the defect tracker is responsible for generating alerts through email. The reports sent through the mail are also available as a chart in 2 formats namely: CSV and XML. There are also provisions to locate duplicate bugs and fix them automatically. This software has a feature which enables the counting of time required for a particular bug to get fixed. A drop-down list makes it easy to re-assign bugs to other users easily. Bugzilla also has advanced search options which also save the search history for future references.
It is a free and open source ticketing software which is self-hosted and managed. It is easy to setup and can be customized according to the company's requirements. It is a very handy tool for IT analysts as they can track and manage tickets from their phones. Spiceworks is supported by both iPhones and Android phones.
The app is very user-friendly and even allows responding to customer queries along with viewing, allotting and closing of tickets. In addition to these features, there are options to customize the user portal which enables the submission of tickets and tracking the progress of previous requests.
For companies having more the one location site, there is also an availability of creating multiple individual organizations and working from cloud.
PHP Help Desk is a software used in registries. It is preferred by companies to use this software as a helpdesk software to follow up on incidents. This software is continuously developing due to the support from a loyal and global user base. This software a combination of platforms such as PHP, MySQL, and Javascript. It can be used on any operating system. A registry of incidents provided in the software allows classification of data in two levels, type and subtype. The software is also concerned with the state of the incident, a brief description, ticket assignment priority, historical registry and an audit. All reports and analysis can be exported to spreadsheets or databases very conveniently.