Apple adds high-end components carefully to each Macbook and iMac model, making them a popular choice among electronic users. Besides the high-grade CPU, Mac computers also come with an easy to navigate operating platform called macOS.
Operating systems other than macOS mainly focus on providing a ton of features to the users. In addition to a wide range of features, macOS also prioritizes keeping things plain and simple. That being said, a guide can speed up the process of adjustment so you can get started immediately.
Continue reading this guide to learn all the tips and tricks involved in using macOS.
How Does MacOS Improve User Experience
The operating system designed by Apple is half the reason why so many people choose to buy Macbooks and iMacs.
Apple macOS includes several default apps to ease your data management process. With these apps, you can simplify trivial tasks and save up on time.
Apple macOS also lets you integrate data with your other Apple devices through iCloud. As long as it is under 50GB, you can sync the data for free across all the devices. You can also access the content on the web server of iCloud. This way, you have all your data saved online so you can do your task from any device.
How To Set Up Your MacOS
Now that you know why macOS is a favorite let's see how you can start using it yourself.
With a guided setup, macOS cuts down on the set up time. Once you switch the computer on with the power button, it asks you to give your system preferences. This includes giving information like timezone and whether or not you would like to share user data with Apple.
You will also be required to give an Apple ID to set up iCloud and other Apple apps. You can either create one or use the same ID you have for your iPhone or iPad. With this, your basic setup is done, and you can start trying out the features macOS offers.
Understanding The Basics Of MacOs
Let's take a look at some of the most important features of macOS that you should be aware of.
1. Dock
The dock is a menu bar at the bottom of your screen, which has all your default pinned apps. You can drag and drop other apps onto this bar to get quick access to your most-used apps.
2. Finder
The Finder is found pinned on the Dock apps. This file management app lets you look at all your files from a single window.
3, AirDrop
AirDrop is a wireless file sharing app exclusively for Apple users. You can share files across iOS devices. To access this, launch Finder and right-click on a file. From there, you click Share > AirDrop.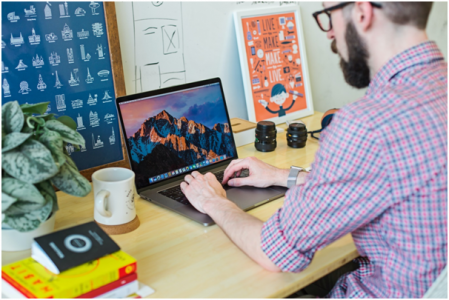 How To Maintain Your MacOS
You do not have to rack your brain over how to actively maintain your operating system, find more info here and learn. Apple macOS comes with its own set of recommendations to update and backup up your computer.
Let's take a look at how you can solve any maintenance issues with macOS.
1. Backup Data With Time Machine
Time Machine is a built-in backup feature to automize the data backup process. Apple offers several external storage disks that are compatible with Time Machine. You choose an external disk, and the system will automatically run periodic backups.
2. Storage Management
From 'Store in iCloud' to 'Reduce Clutter,' Apple macOS has various options to counter any low space issues. You click on Utilities > Apps > Store Management to know your options.
3. Regular Updates
You will need to download the App Store to regularly update your apps. Apple also offers annual updates of macOS. Before installing system upgrades, make sure your data is backed up and that your apps are compatible with the upgrade.
4, Boot Mode For Troubleshooting Issues
Specific key combinations will start your Macbook or iMac in boot mode. When you are facing an unknown issue, boot mode will troubleshoot the issue and run hardware diagnostics.
Final Thoughts
macOS is a user-friendly operating system. The Apple team places macOS with high-grade security measures and guided setups to help you. This way, you save up on time and become more productive.
If you are new to Apple, you may struggle a little in adjusting to macOS. With a guide like this one, you can quickly evolve into an expert at Apple's way of computing.